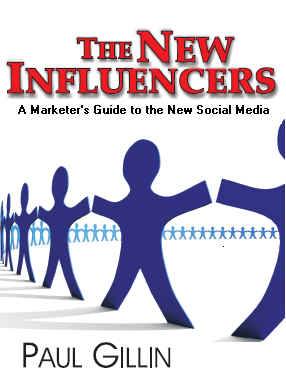 6 Takeaway Marketing Lessons from the Newest Influencer in Social Media Marketing.
As a marketer who strongly believes in the future of conversation marketing and the demise of broadcast marketing I took a strong interest in Paul Gillin's book The New Influencers. Gillin provides readers thought provoking insight into Social Media and the culture of the blogosphere. This is provided with a straightforward and easy to digest foundation tied in with interviews with bloggers and a plethora of examples relevant to companies small and large.
I would preach about how amazing this book is and tell you to go buy it now but this has already been communicated through its 5 star Amazon ratings and excellent reviews recommending this book by Paul Greenberg and Wayne Hurlbert. Instead I'd like to provide 6 takeaways on SMM that were well communicated through this book:
Quoted from the book:
"

Conversation Marketing … means understanding who your customers are, who influences them and how to engage with those influencers. It means exchanging information not delivering a message."

What a blog swarm is and the dynamics by which they are created.

How blogs can serve as a feedback loop and provide more efficient information than formal focus groups.

Characteristics of enthusiasts (evangelists) and how the economics of the blogosphere is providing a voice deeper down the long tail for multitudes of micro-niches.

How corporations are creating their own voice online and engaging evangelists, detractors, and the mainstream press through their blogs.

How blogs humanize companies and allow them to showcase their personality beyond canned marketing materials.
This is by far the best book written to provide a thorough introduction to Social Media Marketing (SMM) without needing a strong background on the space. It engages readers and will strike passion in any Entrepreneur who knows in their gut that there is a better way to connect with your customers than traditional marketing.
-Micha
View some of our previous posts on Social Media Marketing: