As Seth Godin pointed out yesterday, obesity, terrorism and suicide are contagious. Harvard Medical School discovered that your likelihood toward obesity more than doubles if your friend is obese. Suicide among teenagers can be contagious as well.
And as Seth also notes, so is terrorism, spamming, and graffiti. Of course.
Does this shock anyone?
The point is that we spend substantial energy searching for the right job, house and vehicle and put so little energy into what most defines us - those people who populate our personal corner of the world.
It reminds me of yet another pearl of 'Johnny-ism' - You are the Average of your Top Five Friends.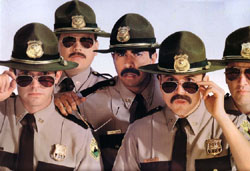 Surround yourself with the best people you can find, embrace their brilliance and put forth the effort to not just be their equal but to constant inspire each other towards greatness.
(And for my ever-praised eBoost team (especially the bearer of all those pearls) - thanks for raising my average, guys!)
-D